VOLARE AW22/23 "The duality of strong power and liberating lightness"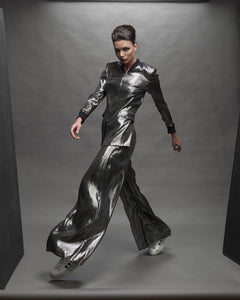 In her 22/23AW collection EVELINFINK displays countless nuances of being a woman. It shows the importance of staying true to ourselves, sticking to our principles and making our dreams come true. She wants all women to be able to grow and soar. The wearer of the VOLARE creations will be even more determined and confident than ever before.
The nature inspired collection is made up of the symbol of the swan's duality– grace and fallibility. The designer's vision came to life by playing between airy movements and rigorous rigidity. It celebrates and paralyzes the female body and soul at the same time.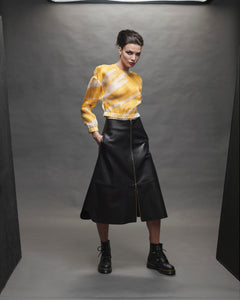 The swan motif on the silks marches through each piece as a defining element. In this hand-drawn graphic, multiple small line details create the whole, which simultaneously represents the complexity of being a woman. The designer with the exciting and striking, exaggerated brushstrokes, which stand as the catalyst and we are libetrated from the boundaries - it shakes us up so we can't resist. These tensions are further heightened by the silhouettes and the exciting materials, steadfastly taking care of the details and elaborations that have become the trademark of the brand.
In addition to the swan graphics, the other main character of the collection is the PINEAPPLE LEATHER. This "skin" is made from the leaves of the pineapple, which, after harvesting the fruit, would usually be discarded or burnt by producers (about 13 million tons of waste per year come from global pineapple agriculture). Thanks to an innovative technology, a strong, flexible material was created from the fibers of the leaves – this is PINEAPPLE SKIN.  
In terms of the use of materials, the designer consciously uses and associates different materials in the VOLARE collection, as well. In addition to Spanish sheep nappa leather, Italian caterpillar silk organza and cupro, recycled and vegan fabrics such as Piñatex, recycled wool, vegan silk, organic cotton also appear. Thus, compared to the choice of materials in previous collections, this collection is another step forward in the direction of environmental awareness. 
Metallics are important elements of the color palette of the collection. Apart from silver and gold the rose colour is strengthening the female energies. Along with them, the strong and independent black also appears, just like the gentle pearl and the golden shades of mango colour.
Discover the VOLARE collection