PINATEX - vegan leather
Clean your product using a cloth soaked in warm soapy water. Never fully submerge the product as this may cause irreversible damage. Let your item dry before any application is made, and refrain from using a heat source to dry more quickly, as this could cause damage. It's recommended to use a natural colorless wax for your Piñatex products. Apply a small amount to a dry, soft cloth and rub sparingly over the textile in a circular motion until fully absorbed. Leave your item to dry naturally for 24 hours after application. You can also buff the wax off with a dry cloth or soft brush.
Only manual handling is recommended, never machine wash, iron, tumble-dry or bleach.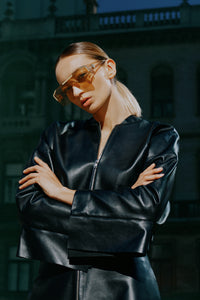 LEATHER
In order to preserve the beauty of your leather item, we recommend that you treat it with the most of care.
For the best result, always take your leather items to a professional cleaner.
Protect it from sources of damp, excessive light and heat. Avoid rubbing against any abrasive surfaces or materials whose colours could rub off on your item. Avoid any contact with liquids, grease and chemicals. Do not use chemicals on the metal parts, you risk damaging the finish.
If your leather item presents traces of dirt or damp, gently wipe the dirt away with a slightly damp, soft natural-colored cloth. If your item comes into contact with water or grease, do not wipe it: dab it gently with a soft natural-colored cloth or paper towel.