SS23 CURIOSITY - Interview with the Designer, Evelin Fink
How does the process of designing a collection unfold? What challenges does the creation of a sartorial masterpiece pose? We interviewed Evelin Fink, the designer of the EVELINFINK brand, about design, inspiration, challenges, SS23 favorites, and even revealed a few secrets about the upcoming collection. Read on for the full interview!
How does the intellectual process of design work for you, and where do you draw your inspiration from?

It's essential for me to build a collection on a foundation, to have a underlying idea and substance. While the pieces can stand on their own, it's important to establish a mental and emotional connection that ties everything together - the materials, colors, shapes, and textures. I design everything in a way that these elements are interconnected.
Inspiration can come from almost anything! Everyday life's small details, my own experiences, and feelings all serve as inspiration. The current world we live in and the surroundings play a significant role in my creative process. Often, the beauty and diversity of natural phenomena, as well as the architectural forms and structures, provide me with plenty of inspiration.
Which part of the collection-making process do you enjoy the most?

The entire process is full of challenges, as one collection follows another while constantly catering to the unique orders of our regular customers. So, resource management is crucial!
When the design language and inspiration have crystallized within me, that's when I start planning. At this point, I tend to enter a state of flow, where I sit at my desk, and before I know it, it's past midnight. This is the most exciting moment for me! The free flow of creative ideas, the development of designs, and the birth of innovations - I immensely enjoy all of it.
This momentum is followed by scheduling, which requires concentrated attention: when, how, and by when each piece will be completed. This is followed by continuous logistics, where the artistic aspect is less dominant, and practical implementation and organization take precedence.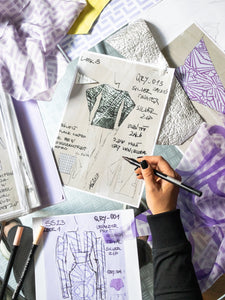 Do you have a favorite piece from the collection?

I put my heart into every single piece of every collection, so each of them is special to me. However, my favorite is always the one I came up with most recently! This is because it embodies my freshest ideas. I feel that the last piece always carries the most refinement and meticulous design.
From the SS23 CURIOSITY collection, I would highlight the yellow LEMON LEATHER ZIPPED DRESS and the silver SILVER PIÑATEX COAT DRESS. These pieces encapsulate the essence of the entire collection.
Of course, while creating new pieces, I always look back at previous looks because each one contributes to my unique designer journey, and I refine them according to the latest ideas. I hope that everyone will find as much joy in these pieces as I do in designing and creating them.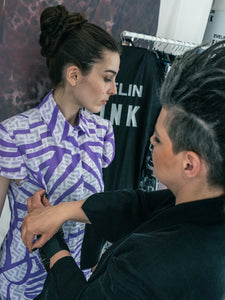 Your brand has consistently presented extraordinary, high-quality tailoring solutions from the very beginning. Which piece from the collection required the most expertise?

Definitely the coat dress, the SILVER PIÑATEX COAT DRESS, with its geometric sleeves, required a lot of experimentation to achieve the desired shape. But I could mention other pieces as well, like the purple PRINTED ORGANZA SHIRT DRESS, which is made from a delicate fabric but has a complex pattern. In fact, each one presented us with a challenge, especially those where strong spatial elements are involved - this is one of the brand's trademarks, the emphasis on pronounced shoulders. It's also essential for each piece to look as aesthetically pleasing on the inside as it does on the outside. I've designed reversible pieces in the past, and I'd like to bring that back in the future. I believe that a garment, as a versatile element, not only offers more style freedom but can also be advantageous from a sustainability perspective.
Designers are already hard at work on the SS24 collection. Can you share a few behind-the-scenes secrets of what to expect?

We're preparing trousers with an extra pocket, and the most important feature is that it will be interchangeable. It can easily be zipped off and replaced with pockets of different colors or patterns. The interchangeable pocket allows the wearer to adjust their style according to the occasion and mood, as it can make the trousers sportier, for example. The concept is that various pockets will be available as accessories too! I can also reveal that in terms of color palette, this will be the most colorful collection we've had so far, and our unique pattern inspired by Goldberger Textilgyár will make a return. I can't wait to share it with you!
Discover the SS23 CURIOSITY collection!