Introducing the EVELINFINK AW2324 COURAGE Collection: Debuting in Corinthia Budapest!
Watch the show!
The highly anticipated EVELINFINK AW2324 COURAGE Collection made its grand debut in March at a private event held at the prestigious Corinthia Budapest. The event was attended by press, influencers, and elite customers who were treated to an exclusive runway show and other delightful surprises.
The evening was hosted by the charming Zsuzsa György-Horváth, who kicked off the event with an opening speech. She then conducted a short interview with the talented designer herself, Evelin Fink, who shared behind-the-scenes stories with the captivated audience. The atmosphere was further enhanced by a mesmerizing performance from the young violin soloist, Gertler Teo, who enchanted everyone with his virtuosity.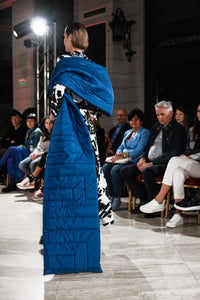 The highlight of the evening was the fashion presentation of the EVELINFINK AW2324 Collection, accompanied by DJ and producer Tigran Vardanjan, who created exclusive mixes for the occasion. The show was a resounding success, showcasing the cutting-edge designs and unique style that EVELINFINK is known for.
As the evening drew to a close, guests enjoyed informal discussions, accompanied by elegant catering that perfectly complemented the occasion. The wine specialties of Jammertal Borbirtok were also savored, including the light and fruity Jammertal Rozé (2022) and the deep red Jammertal Villányi Franco (2016). Guests were also treated to the Cassiopeia Cabernet Sauvignon (2012) and the 400 Arpensis Onyx (2015), both offering a delightful wine experience with their rich flavors and aromas.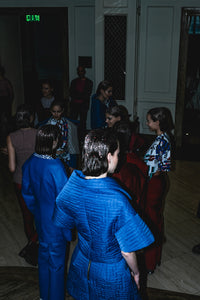 As a thoughtful parting gift, guests received a colorful goodie bag that included the latest issue of Fashion Street Magazine - THE FUTURE ISSUE - which delves into exciting questions about the future beyond the Z and Alpha generations. The goodie bag also included a mini face care routine from Clinique's best-selling products, a free discount from Jammertal Borbirtok, and a silver EVELINFINK AirPods holder made of the innovative Piñatex material, perfect for fashion-forward tech enthusiasts.
The EVELINFINK AW2324 COURAGE Collection debut was a night to remember, filled with fashion, music, and exquisite experiences. Stay tuned for more from this innovative designer, who continues to push boundaries and captivate the fashion world with her daring designs and unwavering courage.