COURAGE AW23/24 - BOLD journey to the FUTURE
The collection with its structured cut lines and geometric shapes, characteristic of, enables women to show the world their inner strength and attitude, the force that guides them to take on new situations of life easily, without sacrificing their elegance and identity.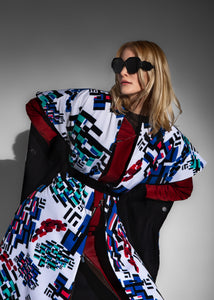 Silhouettes and defined cuts provide women with stability and groundedness, while the accentuated shoulders represent infinite new possibilities. This is the type of courage the collection is about limitless opportunities rooted in reality. The wearers of the collection bravely look into the future even when it seems unpredictable. Reimagined usage of the iconic patterns of the famous Goldberger Textile Factory, part of Hungarian heritage, forms a continuity with the past collection. The chaotic structure of abstract lines marks the mashup of the boundaries of virtual and real worlds. Continuous transformation, reinventing our identities, and exploring new adventures are all consequences of the new virtual revolution–the discovery of which requires more courage than usual.
The color palette of the collection is inspired by technology and cosmic exploration. The invigorating astro red and galactic cobalt blue is reminiscent of the dusty desolatelandscape of Mars and refer to our longing for the reality of everyday life and thediscovery of new frontiers, inviting us to an intergalactic fantasy journey.
The materials of the collection are characterized by naturalness and sustainability. Leathers, radiating strength, come from sustainable sources. Paired with organic cotton, recycled wool and bamboo fabrics, vegan silk, the revolutionary Piñatex fabric and the SEQUAL material recycled from fishing nets take care of help us to minimize our ecological footprint. In addition to the innovative materials, the use of traditional textiles (e.g. caterpillar silk and cupro) will make the collection a truly classy and timeless part of the wardrobe of strong, confident, and brave women.
Discover the AW23/24 COURAGE collection!